Home Tours
Meet Onyx House - A Moody, Modern, Luxury Home in Palm Beach
A modern contemporary home design is a popular choice for many as it provides a sleek and minimal look. Combine that with a moody, monochromatic colour palette and you are met with Onyx House. Set in Gold Coast's Palm Beach, this home offers a welcoming point of difference to the typical house design often seen in this coastal suburb. As you might already know, we are suckers for a light and bright coastal home, however, this home offers a sense of striking confidence and a Melbourne-inspired style that we are instantly intrigued by. The moody colour palette adds an aura of luxury at Onyx House, one that sure does require a level of sophistication to pull off. From the grand open spaces to the striking contrast of materials and finishes, we take you on a tour of this moody, modern and luxurious home that is set to captivate.
Onyx House was constructed and designed by the oh-so innovative Carmichael Build, who are known for creating game-changing homes on the Gold Coast. Combined with architecture by Story Design Collective, we have got ourselves a home that is like no other. Hello jaw-dropping architecture and design that certainly makes a point of difference.
"Traditionally, people on the Gold Coast have tended to shy away from darker tones in architecture, however, there seems to be a new wave of custom architectural homes using bold black interiors and exteriors in coastal suburbs across the city and buyers are welcoming it."
- Nicquel Carmichael, Carmichael Build
While the overall colour palette of Onyx House incorporates dramatic dark tones inspired by Melbourne architecture and interior design, it is off-set with earthy colours that truly bring it to life. This is seen through the stunning artwork choices, velvet statement cushions and lush greenery. We particularly love the use of olive green (which is the perfect earthy tone!) in a few furniture pieces throughout the home.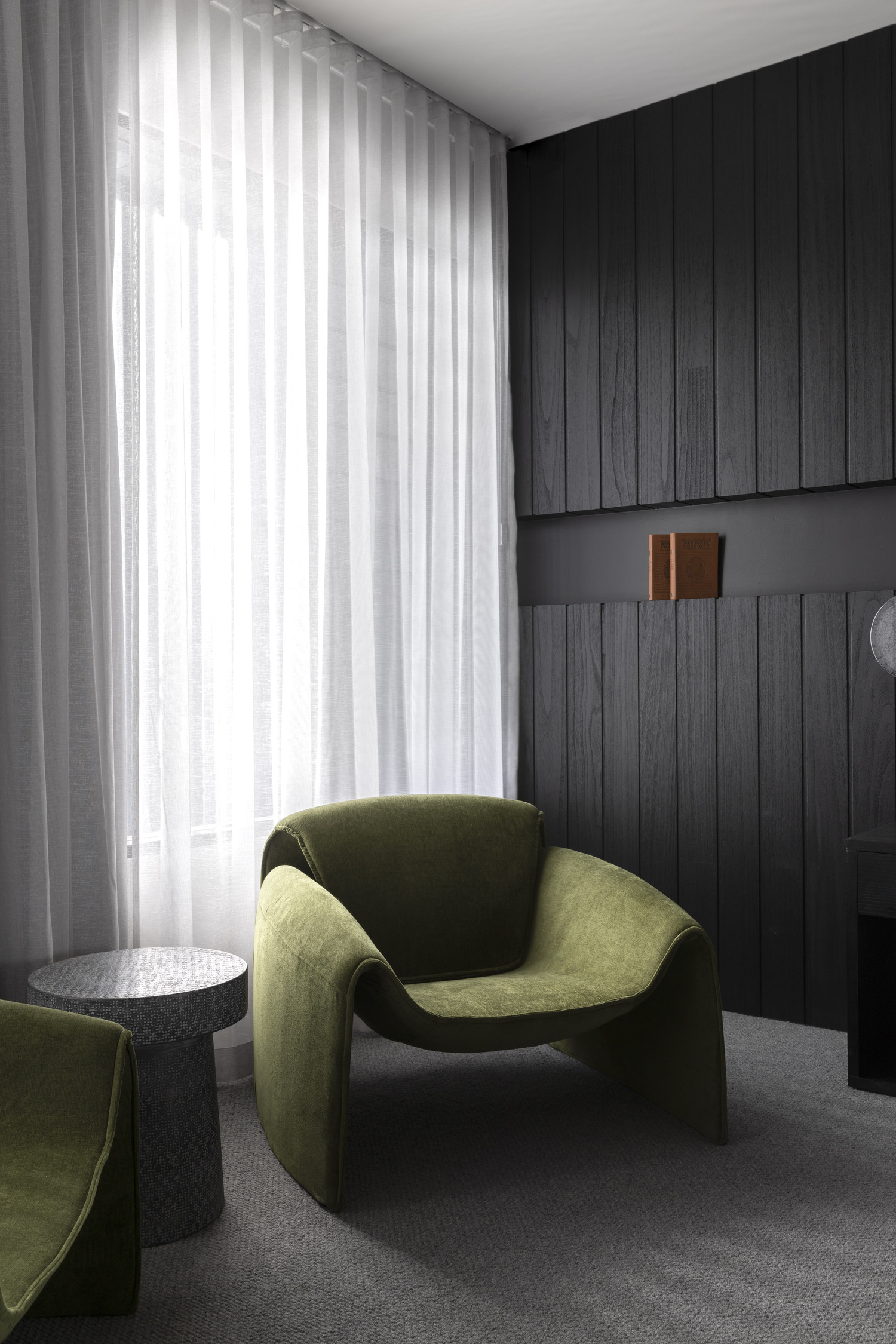 "When done right, black can be sophisticated and alluring. It is a statement of strength and boldness but also one of comfort and in feng shui, black represents the water element and is symbolic of calmness and depth."
- Nicquel Carmichael, Carmichael Build
Let's chat about the natural textural elements and materials used in Onyx House. The use of texture and contrast in a home can certainly add interest and appeal. This is well and truly on display in this home, especially within the open and spacious ground level. One of the features that sets this home apart is the black timber panelling on the ceiling and walls of the open-plan living area to separate it from the dining and kitchen spaces. This is contrasted with rendered concrete benching, a beautiful stone feature wall and luxurious salt and pepper marble in the kitchen. To add another layer, elegant flowing sheer curtains are fitted on the widespread windows to offset the darker textural features and make use of the natural light that Palm Beach has to offer.
By maintaining a consistent style, colour palette and a level of boldness throughout the home, the brains behind Onyx House have created a sense of continuity and confidence that penetrates through all areas. It's certain that an abundance of planning, research and attention to detail has gone into this project and no expenses have been spared to create a home that is on another level (quite literally!). We are sure that Onyx House is set to inspire and set a new standard for bold luxury for many years to come.