Home Tours
A Striking Monochrome Home Named Three Gables
Three Gables is the newly built home of Taf Lewis and Bree Simmons. No strangers to new builds, Taf is the co-director of TrueBuild Homes, which is a boutique building company and who built this stunning home. Enlisting the help of their good friend and interior designer Kate Lawrence, they have created a home that is anything but ordinary. From the striking raked ceilings to the timeless monochrome colour palette, we take you on a tour of this contemporary home and also chat with Bree about the design process behind Three Gables and what some of her non-negotiables were when it came to making decisions about the project.
Hi Bree, it's lovely to meet you and virtually explore your stunning home that is Three Gables. Take us back to the very start. How did this project begin?
Lovely to meet you too and thank you for featuring our project on the Style Edit! My partner, Taf and I both have a passion for residential architecture & design. Taf is actually the co-director of a boutique building company, Truebuild Homes and has completed many beautiful homes for clients. After finding the perfect corner block in a new residential estate, close to where we were living at the time, we decided we should build something a little different but still in line with the estate's guidelines.
Where did the inspiration for this project come from?
We love simple forms, raw & natural materials. We had to play by the estate's design guidelines, so we were governed somewhat, but still able to use a lot of what we love. In terms of the exterior design, this comes across through the Charred Hardwood Cladding, greyed off Hardwood Decking & Screens, Recycled Brick and the Gables. One Gable is a 'barn' type form with the Charred Timber, with the other front Gable being clad in white Weatherboard Cladding. Both Gables are attempting to represent two common building types typically found on rural land, in which this estate was developed on. In terms of the interior design, we were also deeply passionate about building a home that required minimal styling and no clutter. The essential and necessary components of our home are the design features e.g. the Curved Walls, Raked Ceilings and Concrete Benches. Our other huge focus was to create a light & bright feeling, through simple white walls and natural light. Our home opens up on both the Eastern & Northern sides with our living spaces placed here, allowing for the beautiful sun to come through the home from morning till midafternoon.
Did you have a clear vision from the start of this project, or did it evolve over time?
Yes, we did! It is super important to be organised before and throughout a build, so you do not go astray with your budget. In saying this, there were definitely things we added and changed along the way because we had the freedom too as builders, but nothing major! We knew that as much as we wanted to do something different, Three Gables needed to feel like a home and have broad popularity, given its location in a new residential estate.
How did you decide on the monochrome colour palette for Three Gables?
As we have alluded to above, we love raw and natural materials which often lends itself to a neutral monochromatic colour palette. We wanted to continue with the theme of the exterior design being essentially black and white and bring that inside. However, we knew we needed to balance this by adding warmth with timber floors, furniture, curtains etc. Taf and I also involved our good friend and interior designer, Kate Lawrence to help us achieve the look we wanted.
We're there any challenges that came up during the build. If so, how did you overcome these?
This was the first home we designed and built just for us, we wanted to be super hands-on and do as much as we could ourselves. Taf went back to full-time on the tools for this project and roped me into it too! We spent many afternoons, evenings, and weekends on it. However, we had to work around our already busy work schedules, which meant a lot of late nights and long weekends spent on site. It was obviously very different building as a couple, rather than for a client. Taf and I didn't always have a lot of patience for each other but we're so grateful we got to build our home together and we're thrilled with what we've achieved.
What were some of your non-negotiables when designing Three Gables?
Essentially, incorporating a set of good quality core materials such as timber, concrete, recycled brick, wool, linen etc. We felt that by doing this it would allow us to create a space that was authentic yet still high-end. However, it was still important to us that we did this without spending unnecessary money in every area of the home. You don't need to spend ridiculous money to have a beautiful home!
Let's talk about the beloved venetian plaster that is in your ensuite and the golden question – is this hard to keep clean?
We love the minimal look and texture of Venetian Plaster, it fits so perfectly with the curves in our shower. Using venetian plaster meant no grout lines, so SUPER easy to maintain and clean! We also incorporated a handheld shower which adds to the ease of cleaning.
We noticed you engaged an interior designer to assist with the project – Kate Lawrence Interiors. How did you find the process of working with an interior designer and would you recommend that to someone building or renovating?
We absolutely loved working with Kate! Her style and attitude toward construction and design really aligns with what we love and want to achieve. She is also a great friend of ours, which made things so fun and easy.
Taf and I love so many different styles, so it was hard not to accidentally incorporate two or three into the same home. Kate really helped us narrow down our vision and stay true to it, so we were able to achieve a refined and well-thought-out material & texture plan. For this reason, we think it's so important to engage an interior designer to really execute your design ideas or to help develop them with you.
What were some of the main suppliers you used for your build?
Taf, being the co director of Truebuild Homes allowed us to engage all of his usual suppliers with special mentions to DIY Blinds, Fisher & Paykel, Corinthian Doors, Harris Kitchen & Joinery and Woodcut Flooring.
What advice would you give someone who is building or renovating but aren't sure where to begin in terms of the design for their project?
We strongly feel the most undervalued thing in the construction/residential design industry is the importance of the collaboration between builder and architect/building designer. Our biggest advice would be to find a builder you trust, who suits your style and have them apart of the design process. Often your selected builder will have great relationships with a couple of architects/building designers which you can then find the one which best suits your design style and brief. The most important part, is that your now able to value engineer the process with your builder ensuring the design progress stays aligned with your budget, and they are fully committed to you, as their client, knowing that you have committed to them.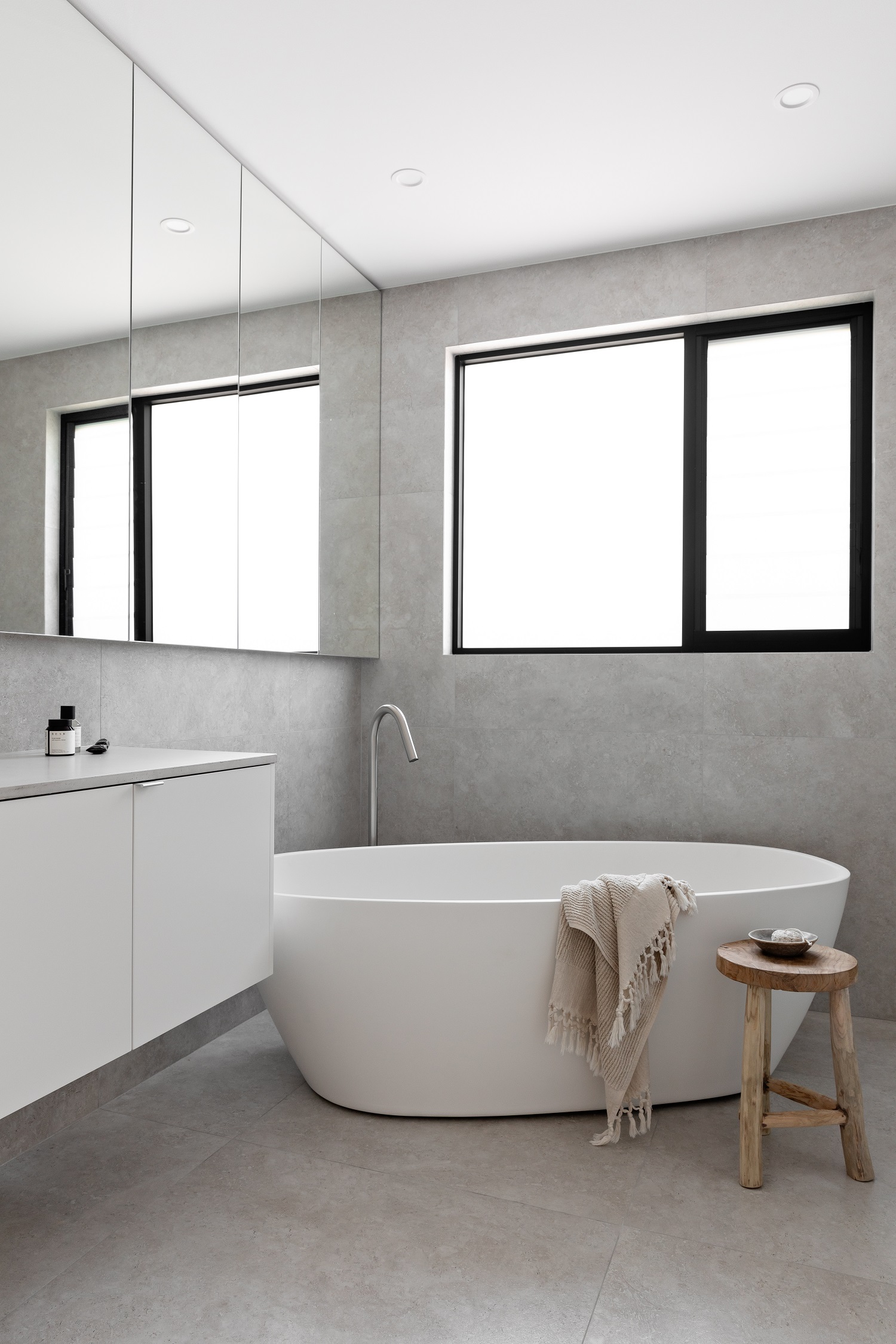 "Kate really helped us narrow down our vision and stay true to it, so we were able to achieve a refined and well-thought-out material & texture plan. For this reason, we think it's so important to engage an interior designer to really execute your design ideas or to help develop them with you".
- Bree from Three Gables on working with an interior designer