Home Tours
Explore the Contemporary, Art Deco-Inspired Coastal Home that is Lumiere House
Lumiere House is a contemporary take on a family beach home. Located in Mangerton, Wollongong, Lumiere House is the five-bedroom, five-bathroom family home of Dane and Zoe Cartwright. The couple purchased the 1940's Art Deco home a few years ago and have since transformed it into a true entertainers delight, combining effortless coastal elegance with simple modern design. Bathed in natural light, the Cartwright family don't need to venture too far if they want a holiday, as this home was designed to feel like a holiday all year round. Join us as we take you on a tour of this contemporary home, that may just make you want to head down to your local real estate agency and purchase your very own slice of coastal real estate.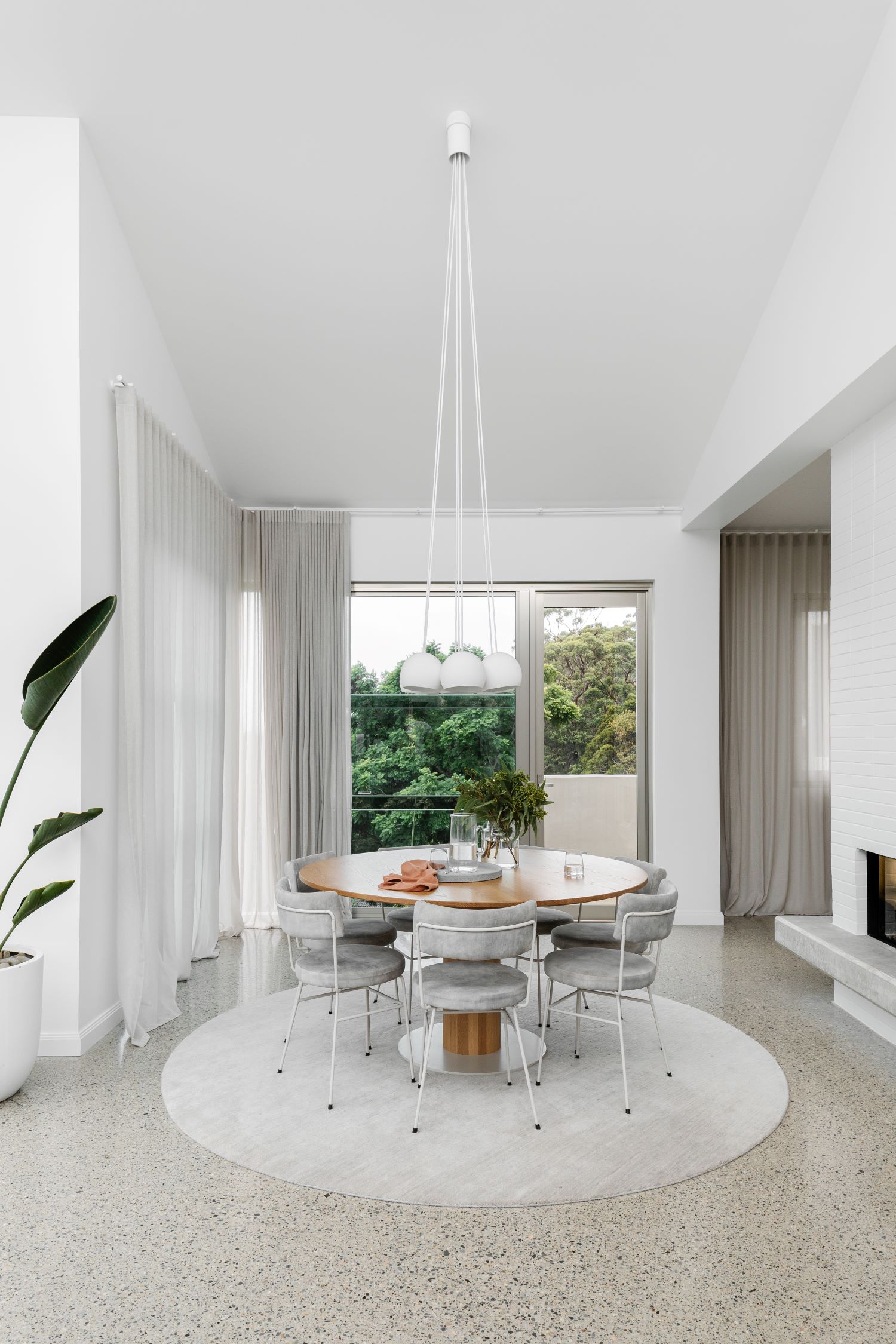 No strangers to the world of building, the renovation was completed by the Cartwright's family-owned master build company, Projection Build, with the interiors by Maven Home. When looking for inspiration for their new build, the homeowners fell in love with Brisbane's Calile Hotel, which you can discover about here. "We wanted three ultra-modern spaces that really complemented the original dwelling," said Zoe. "We explored various boutique hotel and resort looks with our interior designer, Lee Talbot of Maven Homes, when conceptualizing the build, like Brisbane's Calile Hotel." What the family particularly loved about the hotel was its neutral and calming palette and they have bought this into their own home through the use of natural materials and earthy tones. While the home definitely does look a lot different from before, a lot of the typical Art Deco features remain, such as the details of the curved facade and balcony and exposed rafter tails and eves.
Maximising on space and light was crucial when it came to the redesign of this home. This was achieved through the double sawtooth ceiling that is featured above the kitchen and dining room, and large format external sliding doors that overlook the updated pool area. The high ceilings and oversized north-facing glazed windows also let in ample natural light, accentuating the soft curves and subtle fluting in the kitchen. "Our marble was the very first purchase for the home and has been the key influence and direction of the colour pallet and interior selections," said Zoe. The level of detail seen throughout this home is on another level and really makes the home unique.
Zoe's response when asked what the favourite elements of her home are, she says, "Everything. It's my dream home. We always have visitors and we love entertaining. There are so many areas to discover and relax in - it feels like our own secluded resort. Overlooking Wollongong, the views are spectacular, especially at night with all of the lights."
Zoe, Home Owner of Lumiere House
Lumiere House certainly sets the new standard when it comes to contemporary coastal homes. From its art deco-inspired charm to the contemporary facade, there isn't one thing we don't absolutely love about this architectural masterpiece. And we're pretty certain that pool is going to be getting a lot of use come summertime. Ahhhh, the serenity...