Home Tours
Tour Stay Casita, a Mediterranean Inspired Home in Jervis Bay
One house style that we're loving right now is the Mediterranean inspired home. Whether it's because we're coming into the cooler months and are having major summer holiday withdrawals or whether it's just the fact that Mediterranean style homes offer a sense of escape and charm that we love, we're definitely a big fan of this home style.
We recently came across Stay Casita, a Mediterranean inspired home in Jervis Bay that has been freshly renovated and brought back to life by the homeowners. This home has character and Pin-worthy vignettes at every turn. From the curved, tiled island bench to the rendered bathroom vanity, there is not a corner of this home we don't love. Below, we speak with the owner of Stay Casita, who shares with us where the inspiration for the home came from, the most asked questions they receive about the home and what makes Stay Casita so unique. Oh, and did we mention that you can book a stay here for a little weekend escape? We like the sound of that.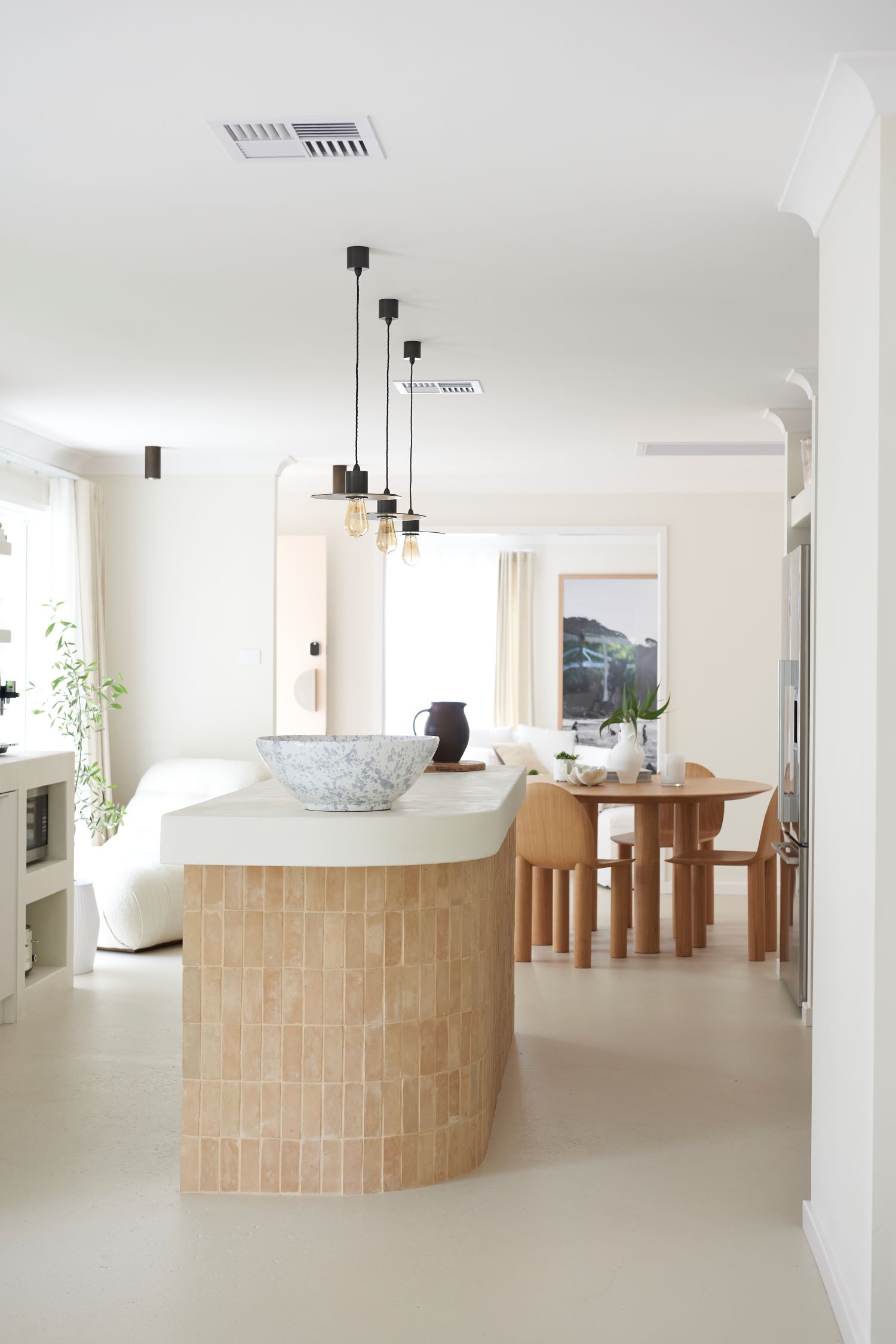 Congratulations on creating the stunning Stay Casita. Can you tell us a bit about this property?
The house was a classic 90's brick house. It has hallways down the middle, and is the perfect house for bringing up kids. The house had the classic rooms needed and everything was closed off - bathrooms, laundry kitchen and dining room. You can see that the street has lots of similar homes as they were all built around the same time from the same builder.
How would you describe the style of Stay Casita?
Casita I think would be considered as laid back Mediterranean. You could literally be anywhere but you are just in Jervis Bay. Casita is thoughtfully and carefully designed and curated but inviting. You want to touch and feel and use everything that you can get your hands on.
Where did you draw inspiration for Stay Casita from?
With the shape of the house and the colour of the roof, I could really see a Spanish style villa. So the inspiration was taken from Mediterranean types of spaces, natural materials, whitewashed walls, and cactus gardens. The more we sat with the feel of the house we knew that it could work and by opening the space up it all just started to flow from there.
Was Stay Casita a renovation or did was it a new build?
This is our first renovation.
What's the most-asked question you get on Instagram about this project?
What paint did we use, how did you create the kitchen and what is the floor made with. Always.
What were some of the main brands that you used throughout this project?
Haymes Paint were amazing partners in this project. With my hubby being a painter, getting the finish right was super important for us and the paint finishes are absolutely perfect. Earp Bros for all the tiles throughout the home - the textures and impact the tiling has on the house has completely finished the look completely. Lightco - lighting is another thing that can make or break a project and the lighting is just perfect. It takes the house from day to night and extends the beauty and experience for the space. Clipsal for things as simple as a light switch and a power point - you certainly need ones that match the aesthetic and Clipsal did that for us. Simple and classic to support the end product but totally purposeful. Australia is a treasure trove of extraordinary designers and design. I have been lucky enough in my career to work alongside many of them and to use their products for shoots etc. But when creating something of such longevity such as Casita, it was important that the items we used were timeless and beautiful and could handle traffic. You can see everything we used in the house with a list of stocks here https://www.staycasita.com.au/shop
What is your favourite room of the house?
Ahhh. So hard, each room you walk into you say, this is my favourite place, then you go to the next room and you are like "no this is my favourite" it's so hard. But I do love standing in the middle of the house in the kitchen just taking it all in. The light changes throughout the day and it is just super beautiful from every angle.
What makes Stay Casita so unique and a must place to stay at?
It's not like an everyday holiday house. Everything is so thought out, you literally only have to worry about what you are going to wear, eat and drink. The colour palette is so considered and it just flows and blends from room to room, adding to the calm feel and energy of the space. We wanted people to just be able to drop in and enjoy every moment. I have set the spaces up so you can all be together or you can go off and have some quiet time. It's also perfect all year round, with air conditioning throughout summer and indoor heating, outdoor heating and a fire pit - you can find your spot no matter the time of year.
What aspects of the build or renovation did you find most rewarding?
Seeing the progress and your vision come to life is so amazing every step of the way and then seeing how people actually use the space the way we intended is so rewarding.
Are you currently planning for any other projects in the future?
Maybe…. You will have to watch this space..